About this Project
Owner

Oak Street Health | Humana Real Estate

Location

New Orleans, LA | Baton Rouge, LA
Five projects for Oak Street Health
Oak Street Health hired Ryan Gootee General Contractors to construct their first five primary care facilities opening in Louisiana. The company consists of primary care providers who specialize in caring for Medicare patients and seniors with a preventative care focus that strives to keep the community healthy and out of the hospital. To best serve the needs of their target population, Oak Street Health locates their facilities in the neighborhoods where they would best be able to serve their patients. They also provide transportation for patients, allowing these projects to be placed in areas that are traditionally underserved.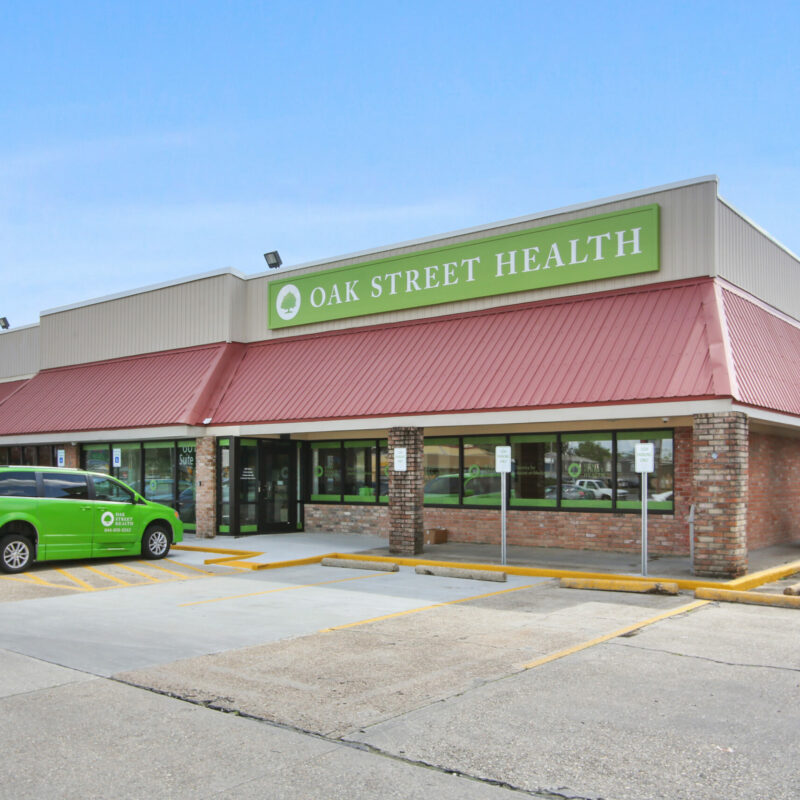 Location Selection
For these primary care facilities, spaces that were previously designed for retail fit many of Oak Street Health's parameters. With ample parking and easily accessible by car, along with large footprints that were able to accommodate the square footage needs of the owner, retail locations were uniquely suited for this type of conversion. Even pre-pandemic many storefronts had closed due to the competition from online sales and a larger shift to ecommerce, a trend that only accelerated with the variety of restrictions put in place throughout 2020 and 2021. As the needs of the US consumer base change and an aging population continues to need increased amounts of care, Oak Street Health identified an opportunity to expand into Louisiana, starting with the greater New Orleans region.
When assessing whether a retail space would be feasible for conversion into a medical facility, an RGGC estimator joined Oak Street Health's real estate team as they visited various sites, leading to the removal of a few locations from consideration based on a variety of factors. The involvement of our team through preconstruction allowed for the lease negotiations to occur with the best chance for overall project success. Five locations were selected in the Gentilly Plaza, Towne Square, Delmont Village, University Retail and Airline Park shopping centers.
Existing Conditions
As with any conversion project, evaluating existing conditions was the first priority. Depending on the age of the building, lead paint and asbestos testing was a necessary step before starting any demolition work. For the locations that were older, RGGC performed testing to make sure the process was upheld to Oak Street Health's satisfaction.
A condition that is somewhat unique to spaces designed for retail use is that the majority of the square footage consists of a large open space serviced by minimal entries. Each project was only accessible through a front and back door with no windows available. This was another instance where careful planning was of utmost importance, since with such tight timelines and multiple subcontractors working on site having a single point of access could create logjams at the door, like a rush for Black Friday. Columns that were in place also needed to be accounted for when moving materials and equipment in and out of the space. Additionally, since the entrances were highly trafficked areas, greater protection of installed materials was required.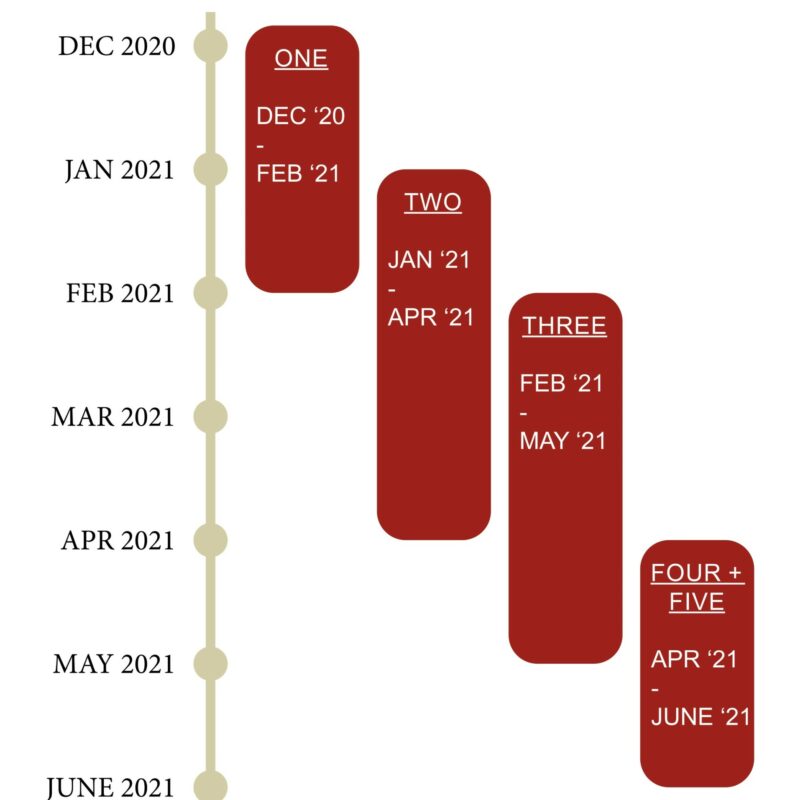 An Expedited Timeline
These projects were scheduled on a fast-track timeline with each facility completed in 12 weeks and all five finished within six months. To meet these requirements, multiple projects were under construction simultaneously. This required careful planning by the team for coordinating deliveries, releasing long leads items to arrive within the appropriate window, and working with the city to connect utilities in a timely fashion.
Identifying and aligning project goals was a key element of the overall design and construction process. The highest priority for Oak Street Health was to have each of their five projects completed on time. Subsequently, the construction project manager and superintendent of each job were able to work in tandem with the design team to streamline construction and prioritize time above cost, while still aware of impacts on the overall budget. This included scheduling the construction team to work on site at least six days a week throughout the duration of the project and close coordination with the architect once existing conditions were confirmed.
The Result
The interior of each retail space was demolished and completely gutted for renovation. Ryan Gootee General Contractors then got to work rebuilding the space for its new function. This included all new framing, drywall, MEP systems, underground plumbing, millwork and HVAC systems. All new storefronts were installed, which included minor exterior repairs as needed. Finishes were consistent through all locations, as Oak Street Health is a national company and provides a familiar experience at each location its patients may visit.
The client was happy with the results of the effort. Through dedicated teamwork both on the construction site and in communication with the owner and architect, each project finished on schedule and are now serving the needs of local New Orleanians