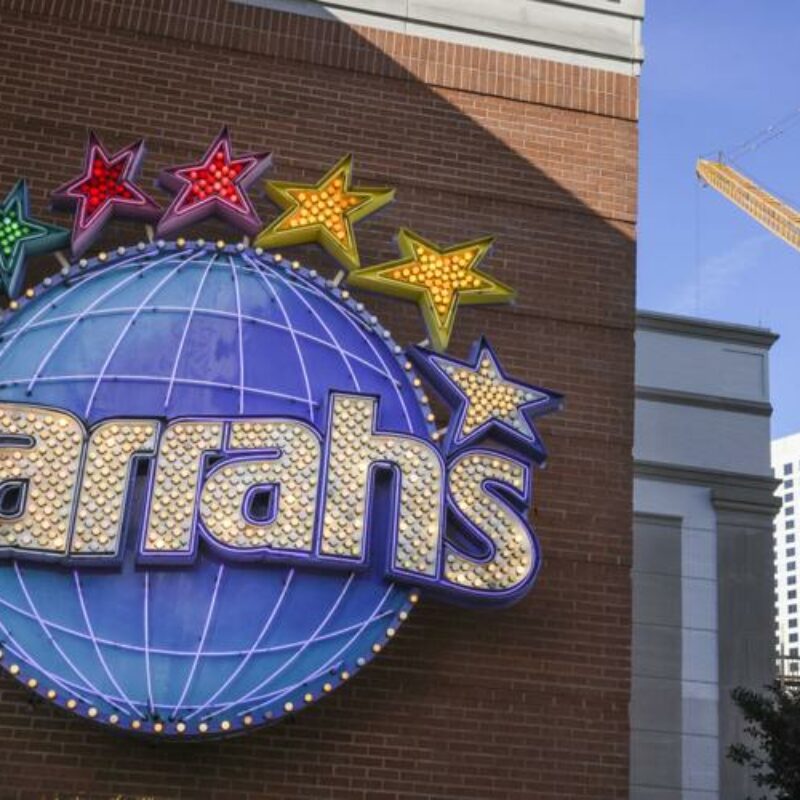 What's next for Harrah's transformation to a Caesars? Exterior renovations, a food hall
BY STEPHANIE RIEGEL | STAFF WRITER
PUBLISHED DEC 28, 2022 AT 4:00 AM | UPDATED DEC 28, 2022 AT 9:43 AM
Comments
A two-year-old project to expand and rebrand Harrah's New Orleans at the foot of Canal Street into a Caesars casino-hotel complex enters a new and more visible phase in early January, when renovations begin to the exterior of the building and to nearly one-fourth of the gaming hall space inside.
The latest phase of the project, slated to be complete in April, will involve overhauling the South Peters Street entrance of the building and painting it white, in keeping with the look of a Caesars casino property.
NO.harrahs.122822
A rendering of the S. Peters Street entrance of the renovated New Orleans land-based casino, which will be rebranded as Caesar's New Orleans and is slated to be completed in late summer 2024.
Photo courtesy: Caesar's
Exterior changes also will entail adding windows overlooking Poydras Street from a new, soon-to-be-completed food hall that will feature three restaurants branded by celebrity chefs.
Interior renovations will include renovating about 20,000 square feet of gaming space, and replacing the heavy framing and dark carpet with a lighter, airier, and more contemporary décor, casino officials said.
NO.harrahs.122822
A rendering of the renovated interior of the New Orleans land-based casino, which will be rebranded as a Caesar's New Orleans and is scheduled to be completed in late summer 2024.
Photo courtesy: Caesar's
"We've been doing work for nearly two years but a lot of it has been behind the scenes," said Kennedy Smith, vice president of marketing for Harrah's New Orleans. "Beginning in January, you're really going to see it and notice a difference."
The latest installment of the project is part of a more than $325 million expansion and modernization of the casino that includes construction of a new 340-room, casino-adjacent hotel. Subsequent phases of the renovation and the hotel are scheduled to be completed by late summer 2024.
Local Harrah's officials said the changes are needed to keep the property competitive as new forms of online gambling become more commonplace nationwide.
"For us to continue to grow, we have to stay relevant and fresh and new," Smith said. "This facility opened in 1999. While I don't want to refer to it as old, with the expansion of gaming, if we want to continue to attract high rollers we need to be able to offer first-class amenities."
Hotel within a hotel
The project is part of a deal Caesars made with the Louisiana legislature in 2019 that will enable the company to operate the land-based casino downtown through 2054.
Caesars is the parent company that owns and operates Harrah's, as well as several other gaming brands, and is one of the largest casino companies in the U.S.
NO.harrahs.122822.004.jpg
Pedestrians walk past Harrah's as the $325M renovation connotes at Harrah's in New Orleans, Tuesday, Dec. 27, 2022. (Photo by Sophia Germer, NOLA.com, The Times-Picayune | The New Orleans Advocate)
Sophia Germer
Work began on the project in early 2021, when the covered entrance and valet parking area at Canal Street and Convention Center Boulevard were demolished to make way for the new hotel, which will be connected to the casino.
The hotel will have 14 floors. Two of the floors will operate as a separate Nobu Hotel—a Japanese luxury brand owned, in part, by actor Robert De Niro.
"It's like a hotel within a hotel and will be a higher price point for customers looking for something a little different," Smith said.
Casino officials said in 2019 they needed to add a new hotel to its existing 450-room Harrah's hotel because the casino was often paying to house high-rollers at neighboring properties.
Though hotel occupancy in the market has declined since then due to the pandemic and increased supply of new high-end inventory, including the Four Seasons, Smith said the second hotel is still much needed.
"Our occupancy is more than 90% because our model is different than other hotels," he said. "Our casinos feed our hotels."
When completed, the new hotel will have a slightly higher price point than the existing hotel, which will continue to operate under the Harrah's brand name.
Celebrity chefs
Inside the casino, some interior upgrades have already been completed, including Caesars Sportsbook, a sports betting venue, and Caesars World Series of Poker, a dedicated poker space. Both opened in early September.
NO.harrahs.122822.002.jpg
Workers work on part of the $325M renovation at Harrah's in New Orleans, Tuesday, Dec. 27, 2022. (Photo by Sophia Germer, NOLA.com, The Times-Picayune | The New Orleans Advocate)
Sophia Germer
A new food hall, located in a space previously occupied by a now-shuttered theater, is nearly complete and scheduled to open in February. The venue will have quick service restaurants, each operated by a celebrity chef, one of whom is local.
A separate restaurant space on the casino floor will be operated by another local celebrity chef, according to Smith, who said more details will be released when the space opens in February. Two other full-service restaurants, including a Nobu Restaurant, will also be operated on the casino ground floor.
In the meantime, renovations will begin to nearly 25% of the casino's gaming space, which will be blocked off behind construction walls. Once work is completed, construction will move to the next quadrant of the building until all of the gaming space has been updated.
Similarly, the building will be painted in phases. At some point in the process, the Harrah's neon sign will be replaced with gold Caesars lettering, though Smith said its too soon to say when that might happen.
While work is under way, patrons will be redirected to other parts of the casino. Work has had some impact on casino revenues, Smith said, though its hard to determine from the data whether fluctuations in revenue were due to construction inconveniences, seasonal factors or COVID spikes.
In November, Harrah's took in $23.3. million, roughly the same as earlier in the fall but less than the $26 million it earned in November 2019, before the pandemic or construction.
Read the Article