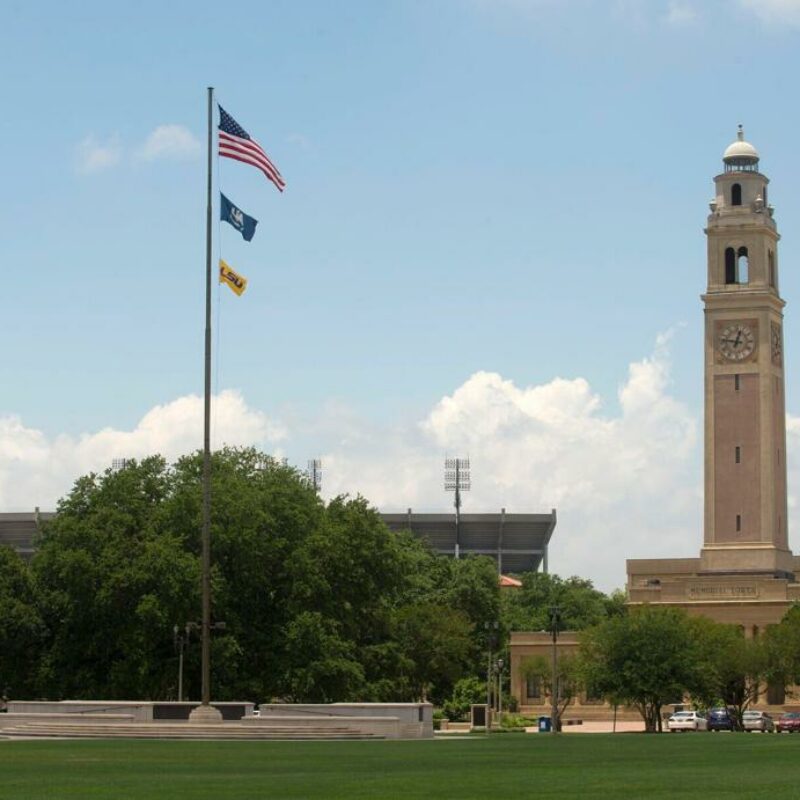 The 2023 LSU 100, which ranks fastest growing LSU-owned companies, has been released
Dallas-based TAP Innovations has once again topped the list of the LSU 100, an annual ranking of the fastest-growing businesses around the world that are owned or led by LSU graduates.
LSU released the 2023 ranking Saturday. TAP Innovations also held the No. 1 spot in 2022.
TAP Innovations helps businesses become more efficient by automating manual paperwork and reducing spreadsheet reliance. Its founder and CEO, John Ragsdale, earned a bachelor's degree in industrial engineering from LSU in 1994.
LSU also unveiled its Roaring 20, a ranking by revenue of the top 20 businesses that applied for the Top 100. Turner Industries, a Baton Rouge industrial construction corporation, was first on the 2023 Roaring 20, holding onto the same perch it held last year.
Turner President and CEO Stephen Toups earned a bachelor's degree in finance and a master of business administration degree from LSU.
Eleven companies were ranked on both the LSU 100 and the Roaring 20: Audubon Engineering Co. LLC, Grand Isle Shipyard, ISC Constructors LLC, Lyons Specialty Co. LLC, MAPP LLC, Martin Sustainable Resources LLC — RoyOMartin, Performance Contractors Inc., Provident Resources Group Inc., PSC Group, Window World of Baton Rouge and WJ Palmisano LLC.
LSU 100 for 2023
TAP Innovations LLC, Dallas
365 LABS, Baton Rouge
TIEK BYDAY, Baton Rouge
Premier Health Consultants LLC, Baton Rouge
REGAL CONSTRUCTION, LaPlace
Geoshield, Baton Rouge
August Events LLC, Baton Rouge
Vectura Consulting Services LLC, Baton Rouge
EGGIE Salon Studio LLC, Baton Rouge
Secure Shredding and Recycling, Baton Rouge
Omega Energy Solutions LLC, Estherwood
Kilcor Construction LLC, Alpharetta, Georgia
The Royal Treatment LLC, Baton Rouge
RHH Architects APAC, Baton Rouge
Pearl Events Austin, Austin, Texas
Trifecta Sports Therapy, Baton Rouge
Emergent Method, Baton Rouge
Ryan Gootee General Contractors, Metairie
Feigley Communications, Baton Rouge
Roofing Solutions LLC, Baton Rouge
WJ Palmisano LLC, New Orleans
Reputation Capital Media Services, Baton Rouge
Connectly Recruiting, Baton Rouge
Southland Partners Inc., Atlanta, Georgia
Grand Isle Shipyard, Galliano
Extreme Nitrogen LLC, Harvey
Garcia Roofing, Prairieville
Courtney Barton, Houston, Texas
Perrier Esquerre Contractors LLC, Saint Rose
Immense Networks, Baton Rouge
Vivid Ink Graphics, Baton Rouge
Tadpole Academy of Baton Rouge LLC, Prairieville
Law Offices of Howard E. Conday Jr. LLC, Natchitoches
Currency Bank, Baton Rouge
Anytime Flooring LLC, Baton Rouge
Perry Dampf Dispute Solutions, Baton Rouge
Crescent Payroll Solutions Inc., Metairie
ISC Constructors LLC, Baton Rouge
Excelerant, Lafayette
Patient Plus Urgent Care, Baton Rouge
Collins-Oliver Inc., Baton Rouge
Facilities Maintenance Management LLC, Denham Springs
Cadence, Wilton Manors, Florida
BC Restaurant Holdings, Bossier City
Pentecom Inc., Palestine, Texas
MAPP LLC, Baton Rouge
Audubon Engineering Co. LLC, Metairie
Wesley Construction Co. Inc., Baton Rouge
Success Labs, Baton Rouge
Fitness Evolved LLC — Evolve Studio, Baton Rouge
MANDATORY FUEL MANAGEMENT LLC, Baton Rouge
LG Audiological Enterprises LLC, San Marcos, Texas
Losey Insurance and Financial Services, Baton Rouge
Manheim Architecture Inc., Saint Charles, Illinois
Lee Michaels Fine Jewelry, Baton Rouge
RCS LLC, Lafayette
Oasis Spaces LLC, Baton Rouge
The Personnel Consulting Group, Metairie
ITinspired, Baton Rouge
Keys Graphics, Baton Rouge
Kidder & Schultz CPAs LLC, Baton Rouge
Highflyer Human Resources LLC, Baton Rouge
Martin Sustainable Resources LLC — RoyOMartin, Alexandria
The Relocation Center, Saint Francisville
Gros Flores Positerry (GFP) Architecture & Interior Design, Thibodaux
Vintage Realty Co., Shreveport
Guardian Computer LLC, Metairie
Moran Construction Consultants LLC, Baton Rouge
System Resources Telecom LLC, Baton Rouge
KC Painting & Coatings LLC, Alpharetta, Georgia
Answering Bureau Inc., Carencro
Provident Resources Group Inc., Baton Rouge
Sealevel Construction, Thibodaux
Netchex, Covington
Moreau Physical Therapy, Baton Rouge
Mid South Extrusion, Monroe
Stuart & Company General Contractors LLC, Baton Rouge
Quality Engineering & Surveying LLC, Port Vincent
Arkel Constructors, Baton Rouge
Frantz-Gibson Painting Co. LLC, Baton Rouge
Next Level Solutions LLC, Baton Rouge
Hargrove Roofing LLC, Shreveport
PSC Group, Baton Rouge
SITECH Louisiana LLC, Baton Rouge
Greenleaf Architects APAC, Covington
SEJ Services LLC, Mt. Pleasant, South Carolina
Cane River Pecan Company, New Iberia
Lyons Specialty Co. LLC, Port Allen
Window World of Baton Rouge, Baton Rouge
Carter & Hatcher Consulting, Houston, Texas
ROMPH-POU AGENCY, Shreveport
Horizon Financial Group, Baton Rouge
Gatorworks, Baton Rouge
Performance Contractors Inc., Baton Rouge
PBM Solutions, Baton Rouge
The Bridal Boutique by MaeMe, Metairie
Evergreen Tractor & Equipment, Covington
SSE Steel Fabrication, St. Bernard
VGraham LLC, Baton Rouge
Sigma Engineers and Constructors Inc., Baton Rouge
LSU Roaring 20 for 2023
Turner Industries Group LLC, Baton Rouge
HNTB Corp., Kansas City, Missouri
Performance Contractors Inc., Baton Rouge, LA
Martin Sustainable Resources LLC – RoyOMartin, Alexandria
LIPSEY'S LLC, Baton Rouge
The Newtron Group LLC, Baton Rouge
PSC Group, Baton Rouge
Grand Isle Shipyard, Galliano
ISC Constructors LLC, Baton Rouge
Provident Resources Group Inc., Baton Rouge
Danos, Gray
B&G Food Enterprises LLC, Morgan City
Safety Management Systems LLC, Lafayette
MAPP LLC, Baton Rouge
Audubon Engineering Co. LLC, Metairie
Lyons Specialty Co. LLC, Port Allen
Window World of Baton Rouge, Baton Rouge
WJ Palmisano LLC, New Orleans
Investar Bank, Baton Rouge
Red River Bank, Alexandria