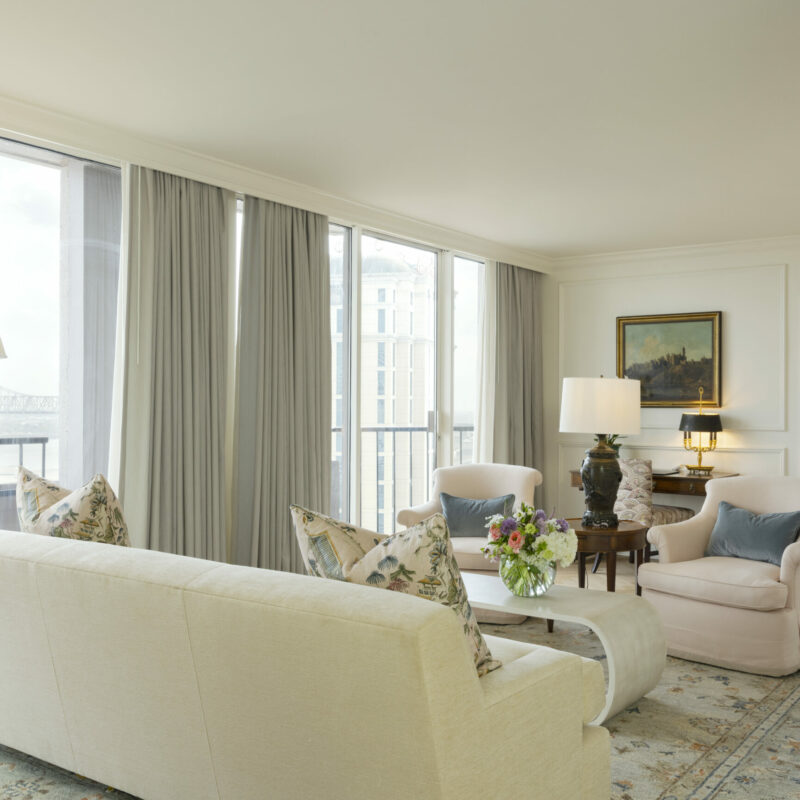 Renovation Report: The Windsor Court unveils $2M upgrade to presidential suite
Stephen Maloney, Reporter//March 14, 2023
Photos courtesy Sara Essex Bradley
Project description: Renovation
Address: 300 Gravier St., New Orleans
Owner: The Windsor Court
Architect: Eskew Dumez Ripple
Contractor: Ryan Gootee General Contractors
Space: 2,800 square feet
Cost: $2 million
Start date: June 2022
Completion date: December 2022
Kings, queens, heads of state, former Beatles, Rolling Stones, and Oprah are among the many who have reserved the James J. Coleman Jr. Presidential Suite at The Windsor Court in downtown New Orleans over the years.
The nearly 2,800-square-foot penthouse, which occupies the 22nd floor of the world-class hotel, is designed for entertaining. But, surprisingly, the suite hadn't had a comprehensive renovation since The Windsor Court opened in 1984.
That's where a small army of designers, installers and general contractors came into play last year. Ryan Gootee General Contractors project executive Kevin Sprehe oversaw the massive effort to revamp the amazing space.
"We came across a lot of issues that were certainly unforeseen," Sprehe said. "There was moisture mitigation that needed to be done. Some water leaks that you just can't find, you just can't see until you open up walls. So, we spent a lot of time making sure that the suite was sealed very tight to ensure that there were no issues with water infiltrating the space."
Sprehe said that side of the renovation is vital, but oftentimes invisible once the job is completed.
"We wanted to make sure that this space lasted for a long time," he said. "If it's been since the 1980s since they've really spent some time working in here, we hope it's another 30 years before they really need to do anything major to it."
The Windsor Court general manager Ralph Mahana said he went into the project with the intention of upgrading everything in the suite.
"Every single detail, from furniture to finishes to appliances, the plumbing – this was a full-scale renovation," Mahana said. "Everything was touched in that renovation."
The presidential suite has two main bedrooms, with what Mahana refers to as a "grand salon" in the middle. A grand piano once played by Paul McCartney, among others, anchors the salon. Around 30 state-of-the-art speakers are hidden throughout the suite, all connected to the entertainment system, which features frame televisions in nearly every space.
Two large terraces on opposite sides of the suite offer views of the Mississippi River and downtown New Orleans. Remote-controlled blackout curtains line the suite, and a second living room has all the comforts of home in a more casual setting.
"We added a workout facility," Mahana said. "There is a workout facility with top-of-the-line Technogym cardio equipment and weights as well. It is hidden within the presidential suite behind these jib doors in what we call the 'casual living area.'"
Each bathroom features a steam shower and a Waterworks tub, Mahana said. The grand salon also features a fireplace, which, surprisingly, was not functional before the Ryan Gootee team got to work.
"We actually replaced the entire fireplace with something much more modern," Sprehe said. "There are certainly code regulations that we had to adhere to, so there was a lot of time spent making sure that we could match what they wanted in look and in quality, but also make sure that we're meeting the code standards. It's not easy, necessarily, to make all of those things work together."
Sprehe said the entire project was enjoyable, especially since Ryan Gootee has developed a strong relationship with The Windsor Court over the years. Mahana said he was overjoyed with the results.
And while doing such a detailed renovation to a storied space may seem risky in a city known for its history, there was one thing that was restored and not replaced.
"We had the grand piano restored, because such famous individuals have entertained their guests in that suite, on that grand piano," Mahana said.