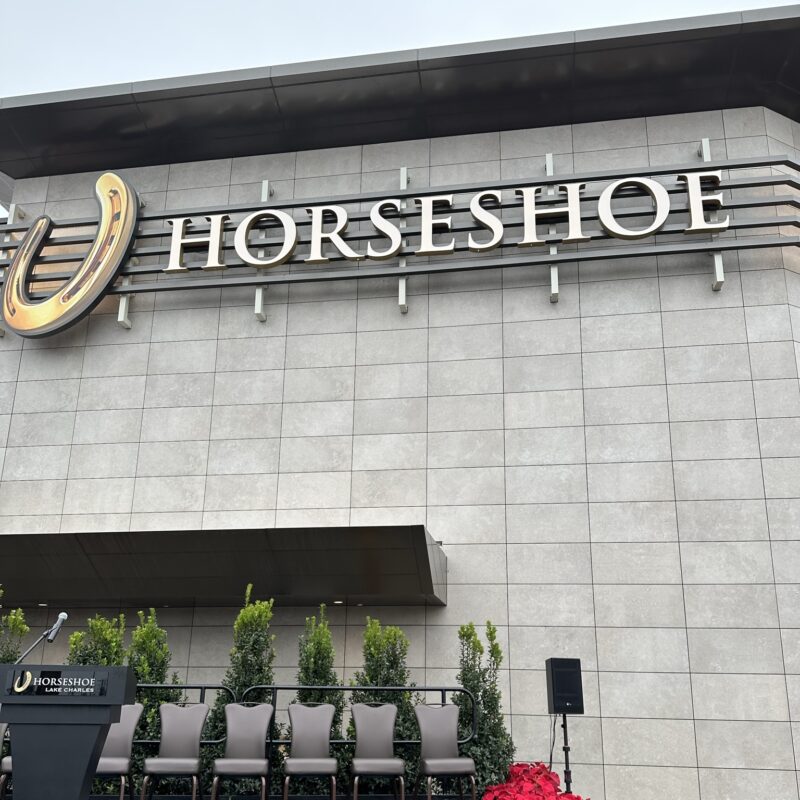 Horseshoe Casino Lake Charles held grand opening ceremony Monday
Author: Tiana Johnson (KBMT), Cameron Sibert
Published: 1:52 PM CST December 12, 2022
Updated: 10:20 PM CST December 12, 2022
Facebook Twitter
LAKE CHARLES, La. — The first person to place a bet at a brand-new casino in Louisiana Monday was Houston fanatic Mattress Mack.
Caesars Entertainment Inc. reinvented the former Isle of Capri Lake Charles into the land-based Horseshoe Casino Lake Charles. Caesars is the parent company of Isle of Capri Lake Charles.
Thousands of eager players attended the grand opening. Mattress Mack put $1 million into the Houston Cougars to win the NCAA basketball championship.
Players came from Texas, Louisiana and beyond to try their luck.
"I have 15 grandkids, and I want some money. That's why I'm here." Pattie Scott, Port Arthur native, said. "I have a lot of gifts I have to buy. Those elves, you think they make everything, but they don't. All I'm going to do is just try my luck, and see what I can do."
One man even came as a familiar and well-loved face from the North Pole.
"This isn't as far for my slay to go," a man dressed as Santa said. "It doesn't have to go all the way to Vegas. It's great to see Caesars come to town."
Isle of Capri Lake Charles was forced to close due to the COVID-19 pandemic and damage from Hurricane Laura in 2020. Casino officials had no idea that once the Isle of Capri shut down, it would not reopen again for two years.
Hundreds of employees were kept on retainer while the renovations were done.
"To live and see your place of work literally sail away, and have to go through COVID," Dan Real, regional president of Casers Entertainment said. "For us to be able to offer the jobs back as I leave this building tonight, that is what I will reflect on the most."
The new resort offers almost 1,000 slot machines, 82 tables, live poker, a brand-new sportsbook and 253 brand-new hotel rooms.
"Literally, what you see in this building is brand new, from the ground up, our hotel rooms, everything is brand new," Real said. "It was quite the undertaking."
As the slots spin and the chips fly, players hope the new hall can bring them some luck.
"Triple, triple triple triple, cause I need the money for Christmas," Pattie Scott, Port Arthur resident, said.
Everything at the resort is officially open for business, including the hotel, the restaurants and the casino floor. Caesars Entertainment plans to bring even more entertainment soon.
Credit: 12NewsNow
Credit: 12NewsNow
Read the Article