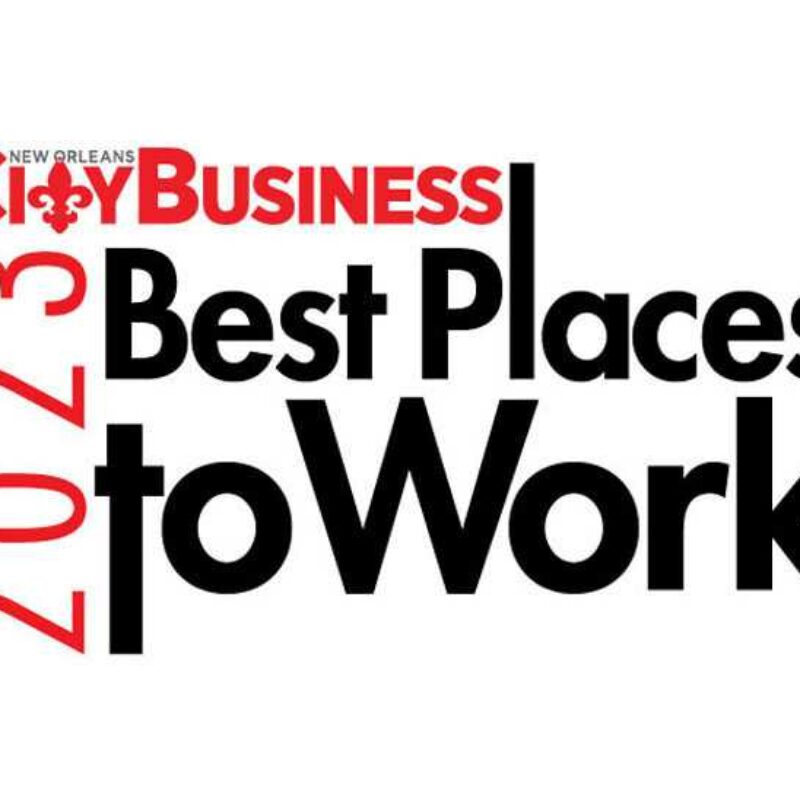 Announcing the 2023 Best Places to Work
Lance Traweek, Editor//September 20, 2023
Eighty-two honorees have qualified for the 21st annual Best Places to Work program.
To participate in Best Places to Work, companies must submit nomination forms disclosing workforce data such as salaries, benefits, retention levels and employee advancement. The next part of the process involves an anonymous survey of company employees to measure workplace culture.
Honorees were selected in the Large Company category (250 or more U.S. employees), the Medium Company category (50–249 U.S. employees) and the Small Company category (10–49 U.S. employees).
All honorees will be featured in a special publication inserted into the Dec. 15 issue of CityBusiness which also will feature the top three large, medium and small companies.
Best Companies Group, a subsidiary of BridgeTower Media (owner of New Orleans CityBusiness), curated the data and made the selections.
"Best Companies Group, an expert in employee engagement research, surveyed and analyzed numerous companies to find the Best Places to Work in New Orleans," said Jaime Zepeda, executive vice president of Best Companies Group + COLOR Magazine. "This program recognizes companies that have excelled in creating quality workplaces for employees."
To be eligible, companies must have a facility in the New Orleans area, have been in business for at least one year, and have a minimum of 15 employees working in the New Orleans area. Employees from nominated companies are surveyed anonymously about their workplace environment through the employee survey, and companies are audited for their workplace policies, practices, and benefits through the Employer Questionnaire. These two data points are compiled into a final rank to determine the winners.
The criteria that must be met in order to place on the list are the following: you must meet or exceed the minimum response rate required on the employee survey in order for your data to be analyzed. Your overall score is a combination of the employee survey and the Employer Questionnaire. Best Companies Group then uses that master score to recognize and rank the winning organizations.
For more information contact Christopher Miller, program business partner for Best Companies Group, at cmiller@bestcompaniesgroup.com or 717-323-5240.
This year's Best Places to Work honorees are listed in alphabetical order according to category:
Large Companies:
Adams and Reese
Ampirical
Home Bank
Hotard Coaches, Inc
Kelley Kronenberg
McGlinchey Stafford PLLC
Panda Restaurant Group, Inc.
Phelps Dunbar
Ryan, LLC
St. Tammany Health System
Taste Buds Management
Triton Stone Group
Medium Companies:
Advantage Medical Professionals
AOS Interior Environments
Bridge House Corporation
Easterseals Louisiana
Enmon Enterprises, LLC dba JaniKing Gulf
EskewDumezRipple
Eustis Mortgage Corporation
First American Bank and Trust
Forman Watkins & Krutz LLP
Gibbs Construction
Gifted Healthcare
Hannis T. Bourgeois
Hyatt Regency New Orleans
Impetus, LLC
Irwin Fritchie Urquhart Moore & Daniels, LLC
iSeatz
Kent Design Build
Kushner LaGraize, LLC
Landis Construction
LaPorte CPAs & Business Advisors
Latter & Blum
Louisiana Public Health Institute
LSUHSC
MAPP, LLC
MedKoder LLC
Metairie Bank
Modjeski and Masters, Inc.
Mouledoux Bland Legrand and Brackett
MULLIN
Rampart/Wurth Holding, Inc.
Robinson Lumber Company
SBP
The Domain Companies
The McDonnel Group
Zehnder Communications
Small Companies:
Anvoi Hospice
BIOS Technologies
CivicSource
Coalition to Restore Coastal Louisiana
Crescent
Crescent Power Systems
Deep Fried Advertising
Delta Administrative Services
Digital Engineering & Imaging, Inc.
Forrest Cressy James
Greenleaf Architects, APAC
JLV Construction
Landmark Consulting, LLC
Landscape Images LTD.
Leaaf Environmental, LLC
Moses Engineers
New Orleans Career Center
Online Optimism
Painting with a Twist
Paradiem LLC
People Who Think
Premier Automotive
RED Group
Regal Construction
Rooter Man
Ryan Gootee General Contractors, LLC
Search Influence, LLC
Special Olympics Louisiana
Susco Solutions LLC
The Bookkeeper
The Personnel Consulting Group
trepwise
United Way of Southeast Louisiana
Universal Data Inc.
WDG Architects Engineers